Alton Towers Water Park located in Alton Towers is a fantastic place in Staffordshire with lots of water fun! They have clean and convenient Changing Facilities, and they provide Buoyancy Aids to stay safe in the water. Don't forget to wear your Swimwear, as it's a must to join the fun! When you get hungry or thirsty, you'll find yummy Food & Drink options right there. It's a perfect location for families, friends, or anyone looking for a great day out. With exciting slides, lazy rivers, and cool play areas, you're guaranteed to have a splashing good time at Alton Towers Water Park!
Opened: 1 June 2003
Owner: Merlin Entertainments
---
Attractons And Slides At Alton Towers Water Park
---
Master Blaster
Get ready to experience an exciting rush of water as you twist and turn all over the Waterpark at super-fast speeds.
---
Rush 'N' Rampage
Get ready to slip and slide down two fast and twisty water slides. You can choose "Rush" and have a fun interactive time! Before you zoom into the Splashdown Pool, pick from five cool music and light themes.
---
Flash Floods
Step outside and enjoy some thrilling adventures with Flash Floods: Outdoor Flume Adventures. Try out our outdoor slides and have a blast before landing in a fantastic tropical pool.
---
Lagoona Bay
Lagoona Bay is an awesome spot! It's got a cool tropical vibe, with relaxing water and fun play areas. Perfect for a day of water excitement!
---
Bubbly Wubbly Pool
The Bubbly Wubbly Pool is a bubbly and exciting place! Jump in, splash around, and have a great time with friends and family. Loads of fun guaranteed!
---
Wacky Waterworks
Wacky Waterworks is a crazy, fun-filled zone! Explore interactive water features, spray jets, and wacky gadgets for endless water play. Get ready for a splashing good time!
---
Little Leek
Little Leak at Alton Towers Waterpark is a cute and gentle water play area for young kids. It's safe and enjoyable with mini slides and shallow waters, perfect for little ones!
---
Calipso Creek
Calypso Creek is a relaxing lazy river experience! Drift along the gentle current, soak up the sun, and enjoy the tropical surroundings. A perfect way to unwind!
---
The Tipping Bucket
The Tipping Bucket is a thrilling surprise! Get ready for a massive splash as the bucket fills up and tips over, drenching everyone below in excitement!
---
Map Of Alton Towers Waterpark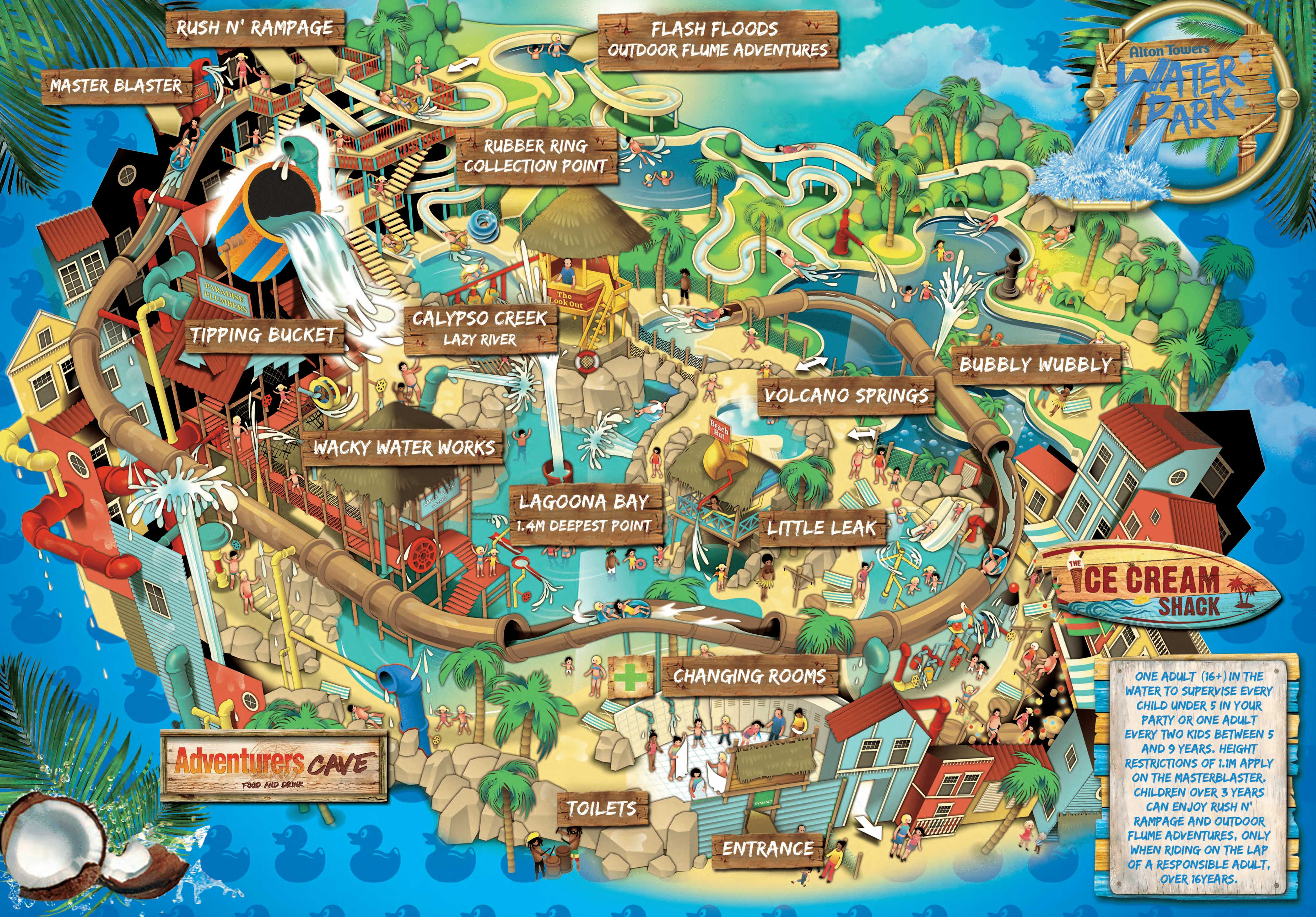 ---
Opening Times
| | |
| --- | --- |
| Monday: 10am – 4pm | |
| Tuesday: 10am – 4pm | |
| Wednesday: 10am – 4pm | |
| Thursday: 10am – 4pm | |
| Friday: 10am – 4pm | |
| Saturday: 10am – 6pm | |
| Sunday: 10am – 6pm | |
---
Address
Alton Towers, Alton, Waterpark ST10 4DB
---
Phone Number
0371 222 3330
---
Email
comments@merlinentertainments.biz
---
Website
https://www.altontowers.com/explore/waterpark/
---
Social
---
Alton Towers Water Park Map Location
---
Admission Price List
| Admission Type | Price |
| --- | --- |
| Waterpark Pass | £16.50 |
| Waterpark Merlin Discount | £11.60 |
---
Images Of Alton Towers Water Park
---
Q&A
| Question | Answer |
| --- | --- |
| Is there car parking? | Yes |
| Can I bring my own food? | Yes |
| Is there food and drink? | Yes |
| Is there a toilet? | Yes |
| Can I take my dog? | No |
| Buggy/Disabled Access? | Yes |
| Baby Changing Facilities? | Yes |
---
Alton Towers Water Park Introduction